Basilica dei Frari - Artworks
Altar of the Relics (Sacristy)
Page 17 of 26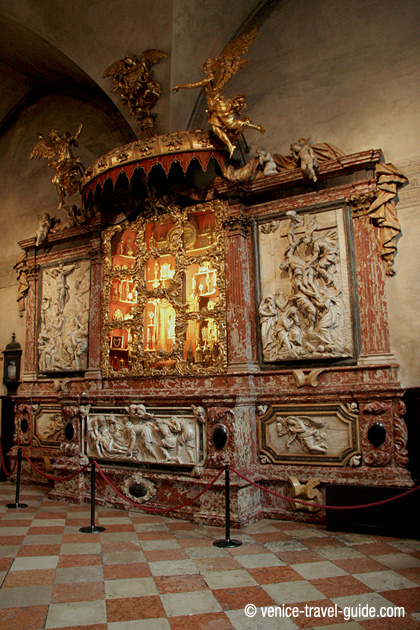 The altar is baroque rich expression and contains one of the most remarkable relics of Venice: the Precious Blood of Christ. This relic, much venerated in the church of Santa Cristina of Constantinople, came into possession of Melchiorre Trevisan in 1479. Trevisan gave it to the Frari March 19, 1480 on the occasion of his return from the East. The date of construction of the altar is stated in the inscription engraved in black marble and placed at the base of the complex sculptural. The three bas-reliefs made by Cabianca in Carrara marble, representing the Crucifixion, the Deposition and Burial of Jesus Christ. In the two lower panes are placed angels with symbols of the Passion.
Artwork: Altar of the Relics.
Artist/Author: Francesco Penso called il Cabianca and Andrea Brustolon
Date: 1711
Artistic Technique: Sculpture. Carrara marble, red gravel of Verona, Siena yellow and golden wood.
Location: Sacristy (number 22). See church plan.
Read more...