Basilica dei Frari - Artworks
Chapter Hall
Page 18 of 26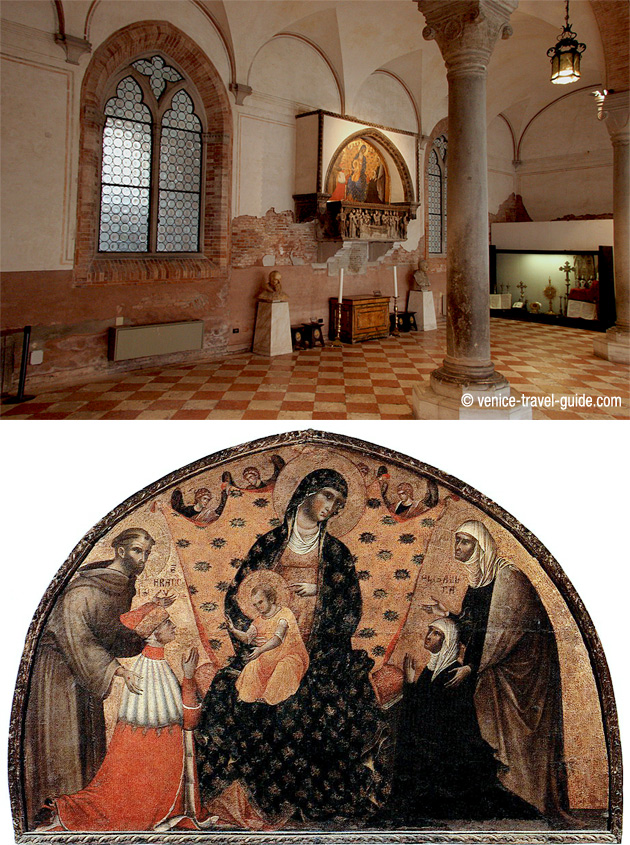 The Chapter Hall was intended for the meeting of the brothers. The recent restoration has revealed the two columns placed at the center of the room. On the top right wall has a central door flanked by two three-light windows with double columns and Gothic arches that allow you to enjoy a magnificent view of the cloister and the convent of the Trinity, now seat of the Archivio di Stato.
The work of Paolo Veneziano, Madonna and Child, St Francis and St Elizabeth accompanying the doge and the dogaressa, is located on the opposite wall, within the pointed arch of the tomb of Doge Francesco Dandolo.
Artwork: Doge Dandolo presented to the Madonna.
Artist/Author: Paolo Veneziano
Date: 1339
Artistic Technique: Painting on table
Location: Chapter Hall (number 23). See church plan.
back to top