Basilica dei Frari - Artworks
Titian's The Assumption (Chancel)
Page 12 of 26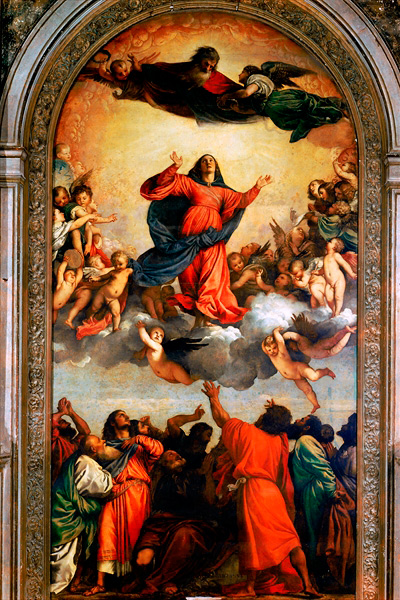 The high altar was consecrated on February 13, 1469. The frame with the two fluted columns of the Corinthian order, was made in 1516 by raising superior of the convent of the Friars Germano Casale. On the entablature are the statues of the Risen Christ, St. Francis and St. Anthony of Padua works by Lorenzo Bregna. The altar table was separated from the complex in 1825.
The impressive altarpiece commissioned to Titian in 1516 by Friar Germano, prior of the convent of the Friars, aroused the delivery, two years later, severe embarrassment to the client and rather cold welcome. The traditional iconography of the assumption into heaven of the Virgin was in fact completely renovated. After a period of exposure to the Accademia Gallery, where he became one of the favorite and acclaimed paintings of the nineteenth century, Titian's masterpiece is back to its original location on the main altar of the Basilica August 13, 1945, where today you can admire in the exact conditions for which the artist intended.
Artwork: Titian's The Assumption.
Artist/Author: Tiziano Vecellio
Date: 1518
Artistic Technique: Painting, oil on canvas.
Location: Chancel (number 13). See church plan.