Basilica dei Frari - Artworks
Monument to Titian
Page 24 of 26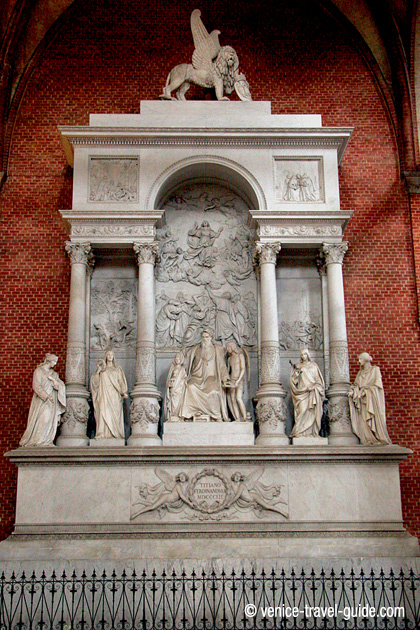 By the will of Titian himself who expressed a desire to be buried in the Basilica dei Frari, at the foot of the altar of the Crucifix next to the Pietà, his last work, now located at the Academy, Luigi and Pietro Zandomeneghi, disciples of Canova, executed this impressive memorial in which the artist was placed August 27, 1576. At the center of the monument is a statue of Titian crowned with laurel; next to him the universal nature, the genius of knowledge and statues of Painting, Sculpture, Graphic and Architecture. At the corners of the base the two emperors who have linked their name to the great painter: Charles V and Ferdinand I of Austria. Five reliefs reminiscent of the most important religious works of the supreme painter.
Artwork: Monument to Titian.
Artist/Author: Luigi e Pietro Zandomeneghi
Date: 1838-52
Artistic Technique: Sculpture
Location: Right aisle, the second altar (number 29). See church plan.
Read more...