Basilica dei Frari - Artworks
Tomb of Doge Francesco Foscari (Chancel)
Page 13 of 26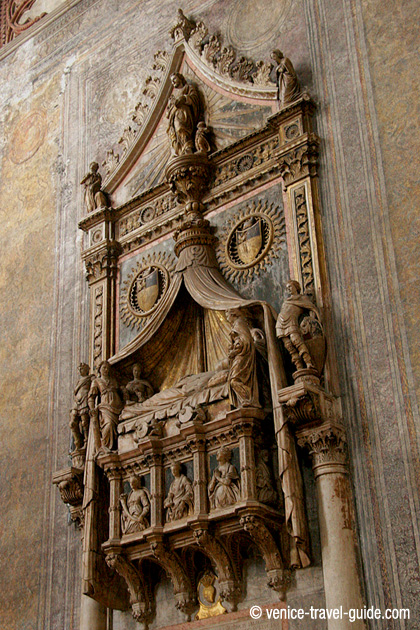 Francesco Foscari was one of the greatest doges of Venice, and in thirty-four years of government led the borders of the Republic to the river Adda and Ravenna, aided by the famous generals Carmagnola, Gattamelata and Colleoni. The lodge Foscari in the ducal palace, and the Palazzo Foscari, now a university, bearing his coat of arms, while the tomb in the Frari welcomes his remains. The monument is by Niccolò di Giovanni. The urn on which rests the doge is supported by four ornate corbels in the boxes by the three theological virtues of Faith, Hope and Charity. The sides are St. Anthony of Padua and St. Mark. On the corners of the casket assist the doge the four cardinal virtues: Fortitude, Justice, Prudence and Temperance. Two warriors carry the shield doge.
Artwork: Monument to Doge Francesco Foscari (Chancel).
Artist/Author: Niccolò di Giovanni Fiorentino
Date: 1457 ca.
Artistic Technique: Sculpture
Location: Chancel, right wall (number 16). See church plan.
Read more...