Basilica dei Frari - Artworks
Tomb of Doge Nicolò Tron (Chancel)
Page 11 of 26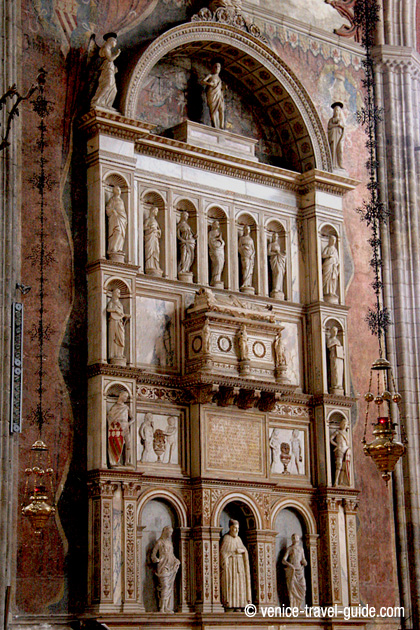 The monument celebrates the recognition of the Venetian Republic to the rich merchant Niccolò Tron, for having rescued it from the period of economic crisis that was going through. The architectural and monumental work of Rizzo is one of the greatest works of the Venetian Renaissance sculpture. The twenty-two statues are divided into four orders: the first order, in the middle, represents the Doge, to the left Faith and to right Charity. In the second order, two warriors hold up the shield of family Tron, while the center is placed the inscription flanked by two bas-reliefs. In the third order, the Doge lies on the urn decorated with the three statues of Prudence, Wisdom, and Strength. The two side niches Singing and Harmony. The fourth order exposes other statues of virtues and allegories. The great arch preserved in the risen Christ and the bezel on the sides of the Annunciation. At the top of the Eternal Father.
Artwork: Monument to Doge Nicolò Tron.
Artist/Author: Antonio Rizzo
Date: 1476
Artistic Technique: Sculpture
Location: Chancel, the left wall (number 15). See church plan.
Read more...